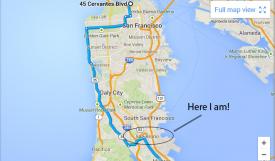 My official start date for my "Walk across the Country" was Thursday January 9th.  That left only 3 days of walking for my first week...which is a bummer, but FitBit tracks Sunday - Saturday, and I'm not doing any extra math!  So far so good, as right now, I've convinced myself there's no need to push myself or get crazy trying to get a ton of distance in.  I've got a full year right? And I don't want to get burnt out too quickly.   For these last few days, I've generally been keeping to my normal routine, and figuring out my baseline, so I know how much I'll have to ramp up (and of course I know that I'll underpace so much that the last three months this year, are really going to suck!)
That said...here are the stats so far....
I've walked a total of 18.8 miles
An average of 6.2, which I'm pretty happy with, but well below the 8 – 9 I am going to have to average
And my left foot has a very slight amount of pain…nothing serious
Taking off from my house, in the Marina neighborhood of San Francisco, this leg gets me down to San Bruno, CA.  A nice little down, just a bit South of San Francisco.  Oddly enough when I virtually knocked on their door, they seemed to virtually turn off the lights, and hide behind the furniture.
One of my first observations on this walk, is that I (gratefully) don't really have to deal with elevation changes.  Literally 4 blocks from my house, had I litterally started walking to San Mateo, I have run straight into the hills leading up to Pacific Heights.  Mammoth, Monster Hills...seemingly with no top at all, and for a man of my weak sprit and power of locomotion, they alone might have killed a real attempt.  But allas, I don't have to deal with these hills...let alone the Sierra Nevada or the Rockies.  My Fitbit registered a relatively pancake oriented 350 ft of elevation climbed...which is just fine with me.
While I'm sure there's a lot of good food in San Bruno, what mostly comes to mind, is a little place in Burlingame - the town next door that sells fresh lobsters, The New England Lobster Company
A buddy of mine, Howie, told me years ago about the place, and how great the lobster and fresh seafood (mostly shellfish was).  Being an East Coaster, and an at time New Englander, I of course was intrigued.   It took me a while to get there, but I finally made it the first time I co-hosted an 8 course New Years Eve dinner.  I walked intp the place, to a sea (nice pun huh?) of tanks  and filters.  Very much a wholesale looking place, the vide was totally fresh off the dock seafood...although of course most is flown in.  I picked up a couples of 2 - 3 lbs, and turned out to be absolutely perfect.  I put together some lobster spaghetti, and used the bodies and shells for bisque.  Damn good eats....
What your favorite way to eat, cook or shell a lobster?
Signing off from San Bruno, CA...let's see where I get to next.